This is a refreshing twist on tacos and quick to assemble if you use a store bought rotisserie chicken.
Ingredients: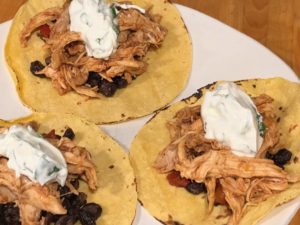 2 teaspoons olive oil
2/3 cup diced red bell pepper
3/4 cup canned black beans, rinsed and drained
Rotisserie chicken, shredded
1/3 cup barbecue sauce
10-6″ corn tortillas
1/2 cup plan 2% Greek yogurt
3 Tablespoons fresh cilantro leaves, chopped
1 Tablespoon fresh lime juice
1/4 teaspoon salt
Heat oil in a large nonstick skillet over medium.  Add bell pepper, cook, stirring occasionally, until tender, 5 to 6 minutes.  Stir in black beans;  cook until warmed through, 2-3 minutes.  Set aside.  Place shredded chicken and barbecue sauce in a microwave-safe bowl.  Mix until thoroughly coated.  Loosely cover, and microwave at HIGH 1 minute or until warmed through.  Warm tortillas in microwave.  Place 3 Tablespoons chicken mixture in center of each tortilla.  Top each tortilla with 3 Tablespoons bell pepper mixture.  Place yogurt, cilantro, lime juice, and salt in a small bowl.  Whisk to combine.  Dollop each taco with about 1 Tablespoon yogurt mixture.
Serves: 5
Recipe from Cooking Light Magazine