Serve these with mashed potatoes.  They are super easy to make and the bbq flavor is a nice twist on the traditional meatball.
Ingredients: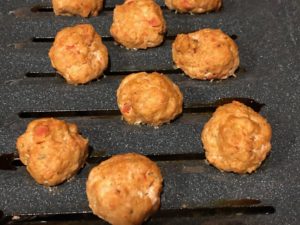 2 Tablespoons dark brown sugar
2 1/2 Tablespoons apple cider vinegar
1 teaspoon ground cumin
1/4 teaspoon smoked paprika
1/8 teaspoon ground cloves
1-14.5 oz. can diced tomatoes with green chilies
1 1/4 lbs. ground lean ground turkey
3 Tablespoons Italian-seasoned bread crumbs
1 Tablespoon chili powder
Place brown sugar, vinegar, cumin, paprika, cloves, and tomatoes in a food processor and blend until smooth.  Combine turkey, breadcrumbs, and chili powder in a large bowl, add tomato mixture.  Shape into small balls and place on a broiler pan coated with cooking spray.  Bake at 400 degrees for 15 minutes or until done.
Recipe adapted from Cooking Light Magazine