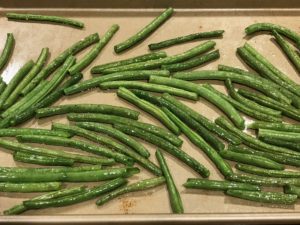 This recipe is perfect if you have company and need something that you can stick in the oven and pull out right before time to serve.
Ingredients:
2 lbs. green beans, trimmed
4 teaspoons extra virgin olive oil
1 teaspoon sea salt
1/2 teaspoon freshly ground black pepper
Preheat oven to 425 degrees. Place a jelly roll pan in oven for 10 minutes. Place green beans in a large bowl. Drizzle with oil, sprinkle with salt and pepper. Toss well to coat. Arrange green bean mixture in a single layer on preheated baking sheet. Bake at 425 degrees for 8 minutes or until crisp tender.
Serves: 12
Recipe from Cooking Light Magazine