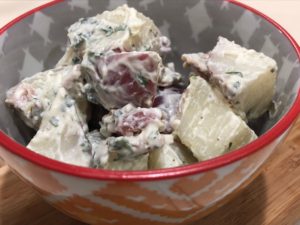 This is a super quick salad that has a ton of flavor.
Ingredients:
1/2 cup mayonnaise
1/2 lemon, juiced
2 Tablespoons chopped cilantro leaves
1 lb. red potatoes, quartered and boiled until tender
6 strips bacon, cooked and crumbled
Salt & Pepper
In a large bowl, combine all ingredients and stir well.
Recipe from Emeril Lagasse