Best. Cupcake. Ever.
Ingredients: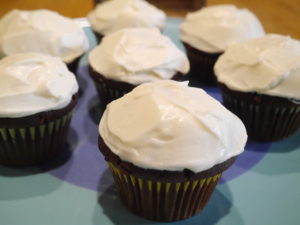 1 1/2 cups all-purpose flour
1/2 cup unsweetened cocoa powder
1 teaspoon baking powder
1/2 teaspoon baking soda
1/4 teaspoon salt
1 cup granulated sugar
1 large egg
1/3 cup vegetable oil
2 Tablespoons butter, melted
2 teaspoons vanilla extract
1 cup milk
1/2 cup mini chocolate chips
1/2 cup unsalted butter, softened
1 package-8oz. cream cheese, softened
3 1/2 cups powdered sugar
2 Tablespoons bourbon
1 teaspoon vanilla extract
Preheat the oven to 350 degrees. Place paper liners in a 12-cup muffin pan. In a bowl, stir together the flour, cocoa, baking powder, baking soda, and salt. In the bowl of an electric stand mixer, beat the granulated sugar and egg until slightly fluffy and combined. Add the oil and butter, beating until combined. Add in the vanilla and beat on medium speed, scraping down the sides of the bowl if needed. Add in half of the dry ingredients while beating on low speed. Add in the milk, continuing to beat on low speed. Add in the dry ingredients. Beat until a smooth, silky batter forms. Stir in the chocolate chips with a spatula. Use a 1/4 cup measure to evenly fill the linters 3/4 of the way full. Bake for 18-20 minutes, or until the tops are set. Let the cupcakes cool completely before frosting. To make the Bourbon Frosting: In a bowl of an electric stand mixer, combine the butter and cream cheese. Beat on medium speed until creamy and blended. With the mixer on low speed, gradually add the powdered sugar. Add in the bourbon and vanilla, then beat the frosting on medium to high speed, scraping down the sides of the bowl when needed. Frost the cupcakes with the bourbon frosting.
Yield: 12 cupcakes
Recipe from The Pretty Dish Cookbook