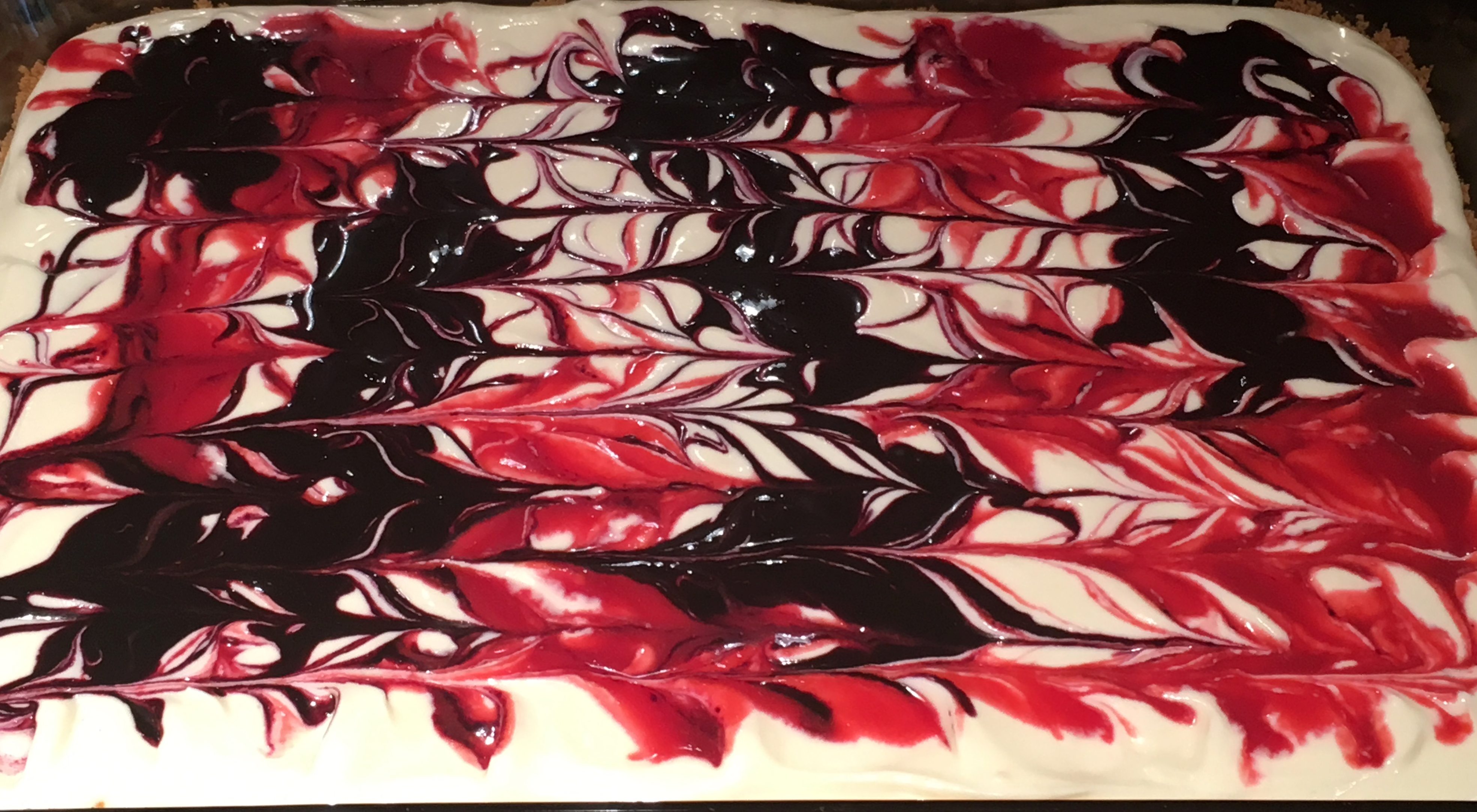 Berry Cheesecake Bars
Cheesecake is rich, but with the addition of blueberries and raspberries in these bars, they add the right amount of tart for the perfect dessert.
Plan Ahead Note: cream cheese needs to be softened to room temperature and the bars are best if refrigerated overnight before serving.
Ingredients
2

6.5 oz. pkgs.

Pepperidge Farm Bordeaux cookies

¼

cup

salted butter

melted

1

cup

fresh raspberries

(5oz.)

¾

cup+2 Tablespoons

granulated sugar

divided

1

cup

fresh blueberries

(5 ½ oz.)

3

8 oz. pkgs.

cream cheese

softened to room temperature

¼

teaspoon

salt

2

egg whites

1

egg

¼

cup

sour cream

2

Tablespoons

all-purpose flour

2

teaspoons

fresh lemon juice

2

teaspoons

vanilla extract
Instructions
Process cookies in a food processor until finely ground, about 1 minute.  Drizzle melted butter over cookie crumbs; pulse until well combined, 3 or 4 times.

Press crumb mixture onto bottom of a lightly greased 13" x 9" baking dish.  Bake in preheated oven until lightly browned, about 10 minutes.  Cool completely, about 30 minutes.

Reduce oven temperature to 325°.

Meanwhile, combine raspberries and 1 Tablespoon each of the sugar and water in a small saucepan over medium heat.  Bring to a boil, and cook, stirring frequently to mash raspberries, until thickened, 6 to 8 minutes.

Place raspberry mixture in a fine wire-mesh strainer over a bowl; press mixture until there are about 3 Tablespoons raspberry puree in bowl.  Discard solids in strainer.  Cool puree completely.

Repeat procedure with blueberries, 1 Tablespoon sugar, and remaining 1 Tablespoon water.

Beat softened cream cheese, salt, and remaining ¾ cup sugar with an electric mixer on medium-low speed until smooth, 1-2 minutes.

Add egg whites and egg, 1 at a time, beating well after each addition.

Add sour cream, all-purpose flour, fresh lemon juice, and vanilla extract, and beat at low speed until smooth, 1 to 2 minutes.

 Pour batter into prepared baking dish; smooth top.

Drop level teaspoonfuls of raspberry and blueberry purees all over the top of batter; gently swirl with a knife.

Bake at 325° until cheesecake is almost set (center will still jiggle slightly when dish is touched), 25 to 28 minutes.

Run a knife or offset spatula around edge of dish to loosen sides of cheesecake.

Cool on wire rack at room temperature 1 hour.  Cover and chill 4 hours or overnight.  Cut into bars.
Notes
Recipe from Southern Living Magazine.