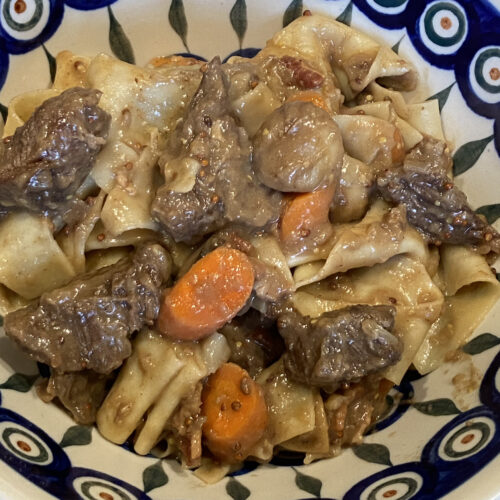 Dijon and Cognac Beef Stew
I think this is my family's favorite recipe!  
Plan Ahead Note: Make this the day before you want to serve it and then reheat for the flavors to really develop.  Another trick, you can buy the beef chuck in advance, cube it, freeze it in a zipper bag, and then just place it in the fridge the night before you plan to cook so it will be ready to go.  You can add the flour and salt and pepper to shake on the meat before adding to the pan.
Ingredients
¼

lb.

bacon

diced

1

large

onion

finely diced

3

shallots

chopped

4

Tablespoons

unsalted butter

2

lbs.

boneless beef chuck

cut into 1" cubes

2

Tablespoons

all-purpose flour

salt

freshly ground pepper

½

cup

Cognac or other brandy

2

cups

beef broth

½

cup

Dijon mustard

2

Tablespoons

whole-grain mustard

4

large

carrots

peeled, halved lengthwise, and cut into half-moons

¼

lb.

white mushrooms

stemmed and quartered

8

oz.

large flat nooodle pasta

cooked according to package directions
Instructions
Place the bacon in a Dutch oven or other heavy pot over medium-low heat and cook until the fat is rendered.                      

Remove the solid pieces and set aside.

Raise the heat to medium and add the onion and shallots, and cook until softened but not brown, 10-15 minutes. Use a slotted spoon to transfer to a large bowl.

Add 2 Tablespoons butter to the pot and increase the heat to medium-high.

 Dust the beef cubes with the flour and season with salt and pepper. Add the cubes to the pot and cook until well browned, almost crusty, on all sides, then transfer to the bowl with the onions and bacon.

Add the Cognac to pot and cook, stirring until the bottom is deglazed and the crust comes loose.

Add the broth, Dijon mustard, and 1 Tablespoon of the whole-grain mustard and whisk to blend, then return the meat and onion mixture to the pot.

Lower the heat, partially cover the pot, and simmer gently until the meat is very tender, about 1 ½ hours.

Add the carrots, and continue simmering for 30 minutes, or until tender.

Let cool, and refrigerate overnight.

In a medium skillet, melt 2 Tablespoons butter over medium-high heat, and sauté the mushrooms until browned and tender.

Stir the mushrooms into the stew along with 1 Tablespoon whole-grain mustard and the red wine.  Simmer for 5 minutes.

Add pasta to the stew, mix well and serve.
Notes
Recipe from The Essential New York Times Cookbook.