These muffins are not too heavy on the pumpkin flavor, but they are wonderfully moist.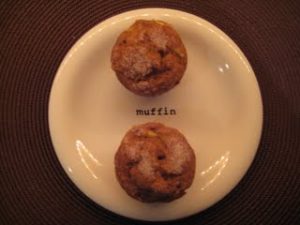 Ingredients:
1 2/3 cup all-purpose flour
1 cup sugar
1 Tablespoon pumpkin pie spice
1 teaspoon baking soda
1/4 teaspoon baking powder
1 cup canned pumpkin
1/2 cup butter melted
2 eggs
1 Granny Smith apple, peeled and finely chopped
3 Tablespoons sugar
1 teaspoon pumpkin pie spice
In a large bowl mix the dry ingredients. Add the remainder of the items and mix just until blended.  Scoop into greased muffin tin.  Combine 3 Tablespoons sugar and 1 teaspoon pumpkin pie spice. Sprinkle over the tops of the muffins.  Bake at 350 degrees for 20 minutes or until toothpick comes out clean.  Remove from pan and cool on wire rack.
Yield:  12 muffins