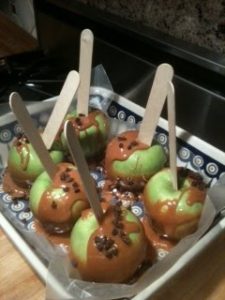 Apples are in abundance this time of year.  Grab some Granny Smith's at the grocery store for this tasty treat.
Ingredients:
6 apples
1 package caramels
1 Tablespoon vanilla
1 Tablespoon water
Mini Chocolate Chips
Craft Sticks
Gently press the craft sticks partway into the center of the apples.  Melt the caramels with the vanilla and water over low heat, stirring constantly.  Dip the apples into the caramel and then roll in the chocolate chips and place on greased wax paper.  Refrigerate for 15 minutes.
Yield:  6 appples