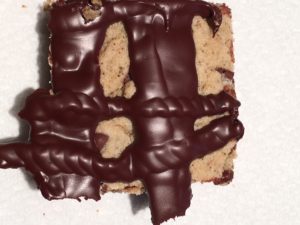 This pan of treats will disappear fast!  Perfect for an after school snack with some milk or for a lunch box.
Ingredients:
1 1/4 cups all-purpose flour
1/2 cup powdered sugar
2 teaspoons instant coffee granules
2/3 cup butter, softened
1/2 teaspoon vanilla extract
1 cup semisweet chocolate chips
1/4 cup bittersweet chocolate chips
Whisk together flour, sugar, and coffee granules.  With an electric mixer add butter and vanilla, beating until well blended.  Stir in 1 cup of chocolate chips.  Spread into an ungreased 8″ square pan.  Bake at 350 degrees for 20 minutes or until lightly browned.  Let set for 5 minutes then cut into squares while still in the pan.  Melt 1/4 cup bittersweet chocolate and drizzle over the top of the shortbread.