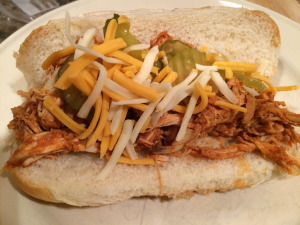 You can throw these together quick!  Just stop by the store for a Rotisserie chicken, shred the meat and toss with the homemade barbecue sauce.  Serve on top of buns with Coleslaw with Bacon.
Ingredients:
1/2 cup ketchup
2 Tablespoons mustard
2 Tablespoons water
3/4 teaspoon ancho chile powder
3/4 teaspoon smoked paprika
1/2 teaspoon garlic powder
1/2 teaspoon ground cumin
1/2 teaspoon Worcestershire sauce
1/8 teaspoon kosher salt
1 Rotisserie chicken, shredded
Combine ketchup, mustard, water, and spices in a saucepan.  Bring to a simmer and cook on low for 10 minutes.  Add chicken and heat through.  Serve on buns with coleslaw on top if desired.
Serves: 4
Adapted from Cooking LIght Magazine