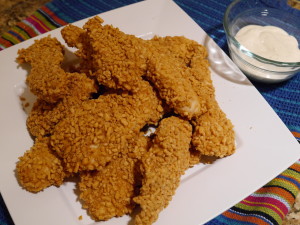 This is a healthier alternative to traditional chicken fingers.  Serve with ranch dressing for dipping.
Ingredients:
2-6oz. packages chow mein noodles
1 cup buttermilk
2 teaspoons soy sauce
1/2 teaspoon garlic powder
1/2 teaspoon pepper
6 chicken breasts, cut into strips
Place noodles in a food processor and blend until fine crumbs.  Place in a pie plate.  Whisk buttermilk, soy sauce, and spices in another pie plate.  Dip each chicken strip into buttermilk and then crumb mixture.  Place on a silicone mat on a cookie sheet and bake at 350 degrees for 18 minutes.  Turn the strips and bake for an additional 15 minutes.
Serves:  4