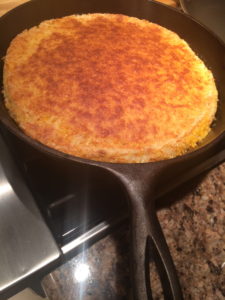 This is the perfect accompaniment to chili or barbecue.  Make sure you use a cast iron skillet.
Ingredients:
1 cup yellow cornmeal
1 cup all-purpose flour
2 Tablespoons sugar
2 1/2 teaspoons baking soda
1 teaspoon salt
1 cup milk
2 eggs
2 cups shredded Cheddar cheese
Heat 2 Tablespoons of butter in a 10 1/2″ cast iron skillet.  Combine cornmeal, flour, sugar, soda, and salt in a large bowl.  Combine milk, eggs, and cheese.  Add to dry ingredients.  Pour batter into the hot skillet.  Bake at 425 degrees for 15 minutes or until golden brown.
Yield: 12 pieces of bread