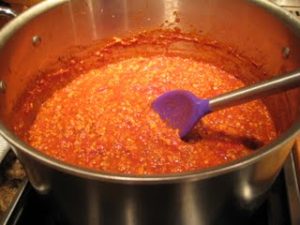 I have always been apprehensive about making a bolognese sauce.  But after watching countless episodes of "Food Network" I gained some more confidence.  The trick is to let the dish stick to the bottom a little bit and then deglaze it with the wine.  The flavor is truly amazing!
Ingredients:
1/2 ounce dried porcini mushrooms
1 cup boiling water
1 Tablespoon olive oil
1 onion, chopped
1/4 teaspoon salt
1 lb. ground pork
1 lb. chopped cremini mushrooms
1 Tablespoon minced garlic
2 Tablespoons tomato paste
1/2 cup white wine
1-28 oz. can whole peeled tomatoes, undrained
1/4 cup milk
10 oz. uncooked whole wheat spaghetti
1 1/2 oz. parmesan cheese, grated
Combine porcini mushrooms and boiling water in a bowl , cover with foil and let stand 20 minutes or until the mushrooms are soft.  Drain the porcini mushrooms in a colander, reserving the liquid.  Chopped the mushrooms.  Heat olive oil in a dutch oven over medium heat.  Add onion, salt, pepper, and pork.  Cook 10 minutes until pork is brown and crumbly.  Add cremini mushrooms, garlic, salt, and pepper, cooking for 15 minutes or until liquid almost evaporates, stirring occasionally.  Add porcine mushrooms and cook for 1 minute.  Add tomato paste, cooking for 2 minutes, stirring constantly.  Add reserved porcini liquid and wine, cooking 1 minute while scraping the bottom of the pan to loosen the brown bits.  Add tomatoes and bring to a boil.  Reduce heat and simmer 30 minutes, stirring occasionally, breaking up the tomatoes. Stir in milk, cook 2 minutes.  Cook pasta.  Drain and toss pasta into the sauce.  Serve in a bowl with parmesan cheese sprinkled on top.
Serves:  6