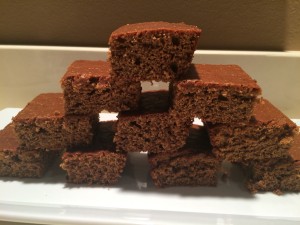 This is just as Grandma would make it.  Moist, spicy, and this recipe makes a big pan, perfect for Thanksgiving crowds!
Ingredients:
1/3 cup butter, softened
1 cup sugar
2 eggs
1-8 oz. carton sour cream
1/2 cup molasses
2 cups all-purpose flour
1 teaspoon baking soda
1/2 teaspoon salt
1 1/2 teaspoons ground ginger
1/4 teaspoon cloves
Cream butter and sugar, beating with an electric mixer until light and fluffy.  Add eggs, one at a time, beating well after each addition.  Stir in sour cream and molasses.  Combine flour, baking soda, salt, ginger, and cloves.  Gently mix into the batter.  Pour batter into a 13″ x 9″ x 2″ baking pan.  Bake at 350 degrees for 35 minutes or until a wooden pick inserted into the center comes out clean.