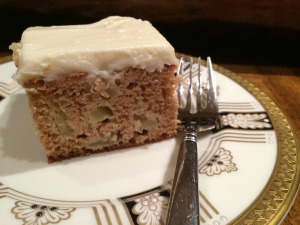 This cake is perfect to serve the night before Thanksgiving.  Bake it during the day to get the holiday spices swirling through the house before you begin the serious T-Day cooking!
Ingredients:
3 cups all-purpose flour
1 teaspoon salt
1 teaspoon baking soda
1 teaspoon ground cinnamon
1 teaspoon ground nutmeg
2 large Granny Smith apples, peeled and diced
2 cups granulated sugar
1 cup natural applesauce
1 teaspoon vanilla extract
3 eggs
1/2 cup unsalted butter, softened
1-8oz. package cream cheese, softened
1 1/3 cups powdered sugar
1 teaspoon vanilla extract
In a large mixing bowl, whisk flour, salt, baking soda, cinnamon, and nutmeg.  Add the diced apples and stir.  In a medium mixing bowl, beat sugar, applesauce, vanilla, and eggs with an electric mixer until well blended.  Add to the flour mixture and stir just until combined.  Pour into a 13″ x 9″ greased baking dish.  Bake at 325 degrees for 55 minutes or until a wooden pick inserted into the center of the cake comes out clean.  Cool completely.  Beat butter and cream cheese with an electric mixer until smooth.  Add powdered sugar and vanilla, beating until blended.  Spread over the cake.
Serves:  16
Recipe adapted from Cooking Light Magazine