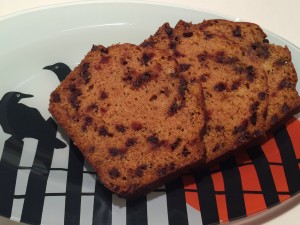 This bread is wonderfully moist and the chocolate is very compatible with the pumpkin.  It makes two loaves which is perfect for gift giving.
Ingredients:
2/3 cup butter, softened
2 cups sugar
4 eggs
2 cups pumpkin
2/3 cup water
3 1/3 cups flour
2 teaspoons baking soda
1/2 teaspoon baking powder
1 teaspoon ground cinnamon
1 teaspoon ground cloves
1 1/2 cups mini chocolate chips
In a large mixing bowl, combine butter and sugar, beating well.  Add eggs one at a time, beating well after each addition.  Add pumpkin and water.  In a medium bowl, combine flour, baking soda, baking powder, cinnamon, and cloves.  Add to pumpkin batter, mixing just until combined.  Stir in chocolate chips.  Grease and flour two 9″ x 5″ x 3″ loaf pans.   Bake at 350 degrees for one hour or until a wooden pick inserted into center comes out clean.  Let cool and remove from pans.