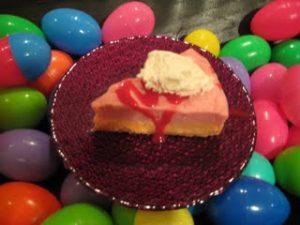 This recipe was adapted from a cookbook my sister-in-law gave me, Essentially LIlly, a guide to Colorful Holidays.  This pie is so light and refreshing, and by mixing the sherbet colors it looks fabulous on the Easter table!  Make this a day in advance so it has time to freeze.
Ingredients:
1 cup vanilla wafer cookie crumbs, crushed
2 Tablespoons granulated sugar
2 Tablespoons unsalted butter, melted
1 quart orange sherbet
1 quart strawberry/raspberry sherbet
1/2 cup heavy cream
2 Tablespoons confectioners sugar
1/2 teaspoon vanilla extract
1 pint raspberries
1/3 cup granulated sugar
1 teaspoon fresh lemon juice
Lightly butter a round springform pan.  In a food processor combine vanilla wafers and sugar until mixture is fine crumbs.  Place crumbs in a bowl and add butter, stirring until moistened.  Press the crumb mixture onto the bottom and slightly up the sides of the springform pan.  Bake in a 350 degree oven for 10 minutes or until light brown.  Cool completely.  Soften the orange sherbet by placing it in a bowl and mashing it with a large rubber spatula until slightly creamy.  Spread evenly over cooled crust.  Cover with plastic wrap and freeze until firm for 20 minutes.  Then soften the strawberry/raspberry sherbet and spread over the orange sherbet.  Cover with plastic wrap, placing the wrap directly on the sherbet and freeze until firm, at least 4 hours or overnight.  When ready to serve, whip heavy cream, confectioners sugar, and vanilla in a medium chilled bowl with an electric mixer until stiff.  Serve a dollop of whip cream on top of each slice of pie along with the raspberry sauce.  To make the sauce:  Puree one pint raspberries, 1/3 cup granulated sugar, and 1 teaspoon fresh lemon juice in a food processor.  Strain through a strainer into a bowl.  Cover and refrigerate until chilled.   This sauce can be made a day in advance.