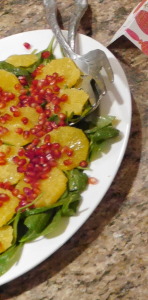 This side dish makes a festive holiday presentation at the Christmas table.
Ingredients:
1/4 cup olive oil
1 Tablespoon orange zest
2 Tablespoons orange juice
2 teaspoons rice wine vinegar
2 teaspoons Dijon mustard
2 Tablespoons buttermilk
1 teaspoon shallot, minced
1/2 teaspoon minced fresh rosemary
1/4 teaspoon sea salt
1 large bunch spinach
3 oranges
1 cup pomegranate seeds
1/2 shallot, sliced paper thin
1 Tablespoon fresh rosemary leaves, plus sprigs for garnish
sea salt and fresh ground pepper to taste
For the dressing, whisk the orange zest, orange juice, vinegar, mustard, and buttermilk into the olive oil.  Add the shallots, rosemary, and sea salt.  For the sale, cut the very top and very bottom off of the oranges.  Carefully slice off the peel, removing the white pith while sparing as much flesh as possible.  Cut int 1/2″ slices.  Pour most of the dressing over the spinach and toss.  Spread the spinach on a large platter and add the oranges.  Scatter with pomegranate seeds and shallots.  Finish with a final drizzle of dressing, a scattering of rosemary leaves, a pinch of sea salt, and several twists of fresh pepper.
Recipe prepared by my friend Ashley