This recipe turns out great every time!  Put it in the fridge if you like a firmer brownie.  Serve it after it has cooled for a gooey brownie slice.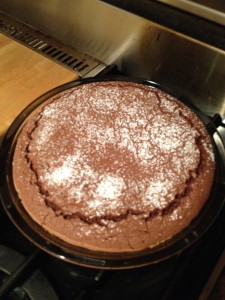 Ingredients:
1 Graham Cracker Crust, unbaked*
5 Tablespoons unsalted butter, cut into pieces
3 ounces unsweetened chocolate
1 cup sugar
2 eggs
2 egg yolks
1 teaspoon vanilla extract
1 cup all-purpose flour
1 teaspoon baking powder
¼ teaspoon salt
Confectioner's sugar
Vanilla ice cream
Put the butter, with the chocolate on top of it, in the top of a double boiler set over simmer water.  When both are melted, set the chocolate aside to cool, whisking while the mixture is still warm.  Reserve 2 Tablespoons of the granulated sugar and set aside.  In a large bowl, beat the rest of the sugar, the eggs, and egg yolks with an electric mixer on medium-high speed until light and airy, about 4 minutes.  Blend in the vanilla and chocolate mixture until evenly combined.  Combine the remaining 2 Tablespoons of sugar in the food processor and pulse.  Stir into the chocolate mixture.  Sift together the flour, baking powder, and salt and stir into the chocolate mixture until evenly blended.  Put the filling into a chilled graham cracker crust.  Dust the top lightly with confectioner's sugar.  Place the pie on the center oven rack and bake at 325 degrees for exactly 30 minutes.  Remove from oven and let cool on a wire rack.  Slice and serve with vanilla ice cream.
*Graham Cracker Crust
1 3/4 cups graham cracker crumbs (12 whole crackers)
2 Tablespoons firmly packed light brown sugar
1/2 teaspoon ground cinnamon
Pinch of salt
6 Tablespoons unsalted butter, melted
Lightly butter a 9″ or deep dish pie ban.  Combine the graham cracker crumbs, brown sugar, cinnamon, and salt in a large bowl.  Mix briefly with your fingers.  Add the butter and incorporate well, mixing first with a fork, then with your hands, rubbing thoroughly to form evenly dampened crumbs.  Spread the crumbs evenly and loosely in the pan, pressing them into the bottom and up the side.  Refrigerate for 5 to 10 minutes before filling.
Recipe from Pie Cookbook by Ken Haedrich