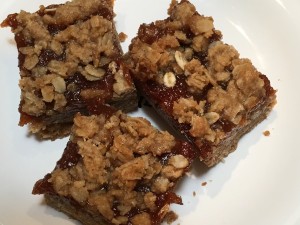 This is like a peanut butter and jelly bar.  Makes you feel like a kid again!
Ingredients:
1 cup old-fashioned rolled oats
1 cup whole wheat pastry flour
1 teaspoon baking soda
1/4 teaspoon salt
3/4 cup creamy peanut butter, melted
1/2 cup loosely packed light brown sugar
1 teaspoon vanilla extract
1/2 cup milk
1 cup apple butter
1/3 cup old-fashioned rolled oats
1/3 cup loosely packed light brown sugar
2 Tablespoons whole wheat pastry flour
2 Tablespoons unsalted butter, at room temperature
1 teaspoon vanilla extract
Spray an 8″ square baking dish with cooking spray.  In a small bowl, combine the oats, flour, baking soda, and salt.   Set aside.  In the bowl of your electric mixer, add the peanut butter and brown sugar.  Beat on medium speed until fluffy, 2-3 minutes.  Add the vanilla extract and beat the mixture until combined.  With the mixer on low speed, slowly add the dry ingredients.  Slowly add the milk, and continue to mix until a dough forms.  Remove the dough from the bowl and press it into the baking dish.  Spread the apple butter over the top of the dough.  For the crumble, combine the oats, brown sugar, and flour in a bowl.  Add the butter and vanilla extract and crumble it together with your fingers until the butter is distributed.  Sprinkle the mixture over the apple butter.  Bake at 350 degrees for 25-30 minutes.  Remove the pan from the oven and let the bars cool completely in the dish before cutting.
Yield:  12 squares
Recipe from Seriously Delish Cookbook