It's the middle of summer and you want dessert but you don't want to heat the kitchen.   Problem solved with these grilled brownies!  Be careful though, they cook fast so keep an eye on your dessert so the brownies don't become hard rocks.
Ingredients: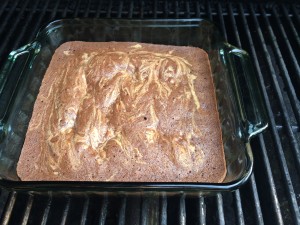 1/3 cup unsweetened cocoa powder
1/2 cup all-purpose flour
1/4 teaspoon kosher salt
1/4 teaspoon baking powder
2 eggs
1/2 cup granulated sugar
1 teaspoon vanilla extract
1/2 cup butter, melted and cooled
creamy peanut butter
Generously butter an 8″ square glass baking pan and heat the grill to 350 degrees.  In a large bowl mix eggs, sugar, and vanilla with a spatula, mixing well.  Add cooled butter then sifted cocoa powder, flour, salt, and baking powder.  Pour batter into prepared pan.  Drop 6 or 7 Tablespoons of creamy peanut butter on top of the batter.  Using a wooden skewer, gently swirl the peanut butter into the brownie batter.  Turn off the middle burner of the grill and place the pan in the center.  Grill for 20 minutes or until the batter gently pulls away from the sides of the pan and a toothpick inserted into the center of the pan comes out clean.  Cool on a wire rack for 15 minutes.  Invert the brownies onto a cutting board and slice brownies into squares.
Yield: 16 brownies
Adapted from Weber's Time to Grill Cookbook