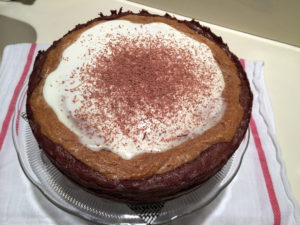 The crust is what makes this cake!  It sounds a little unconventional to take some of the uncooked batter and use it to make the side crust, but it works really well.  Just use a spatula to seal the batter to the sides of the pan and top of the crust.
Ingredients:
3-1oz. squares unsweetened baking chocolate
1/4 cup unsalted butter
1/2 cup all-purpose flour
1/8 teaspoon salt
1/8 teaspoon baking powder
2 eggs
1 cup firmly packed light brown sugar
1 1/2 teaspoons vanilla extract
12 oz. cream cheese, softened
1 cup firmly packed light brown sugar
3 eggs
1/2 cup sour cream
1 1/3 cups creamy peanut butter
3/4 cup sour cream
2 teaspoons granulated sugar
Semi-sweet chocolate
Preheat oven to 350 degrees.  Placed chopped unsweetened chocolate and butter in a small saucepan and heat on low just until melted.  Remove from heat.  In a small bowl, stir together flour, salt, and baking powder.  Beat 2 eggs and 1 cup brown sugar at medium-high speed with an electric mixer for 3-4 minutes.  Add vanilla and melted chocolate.  Stir in flour mixture just until combined.  Spread half of brownie batter into a greased and floured 9″ round springform pan.  Bake at 350 degrees for 15 minutes or until set.  Cool on a wire rack for 10 minutes.  Freeze crust for 15 minutes.  Spread remaining batter up sides of ban to 1/4″ from top and seal to the bottom crust.  Beat cream cheese and 1 cup brown sugar with an electric mixer until well blended.  Add 3 eggs, one at a time, beating just until yellow disappears.   Beat in sour cream and peanut butter until blended.  Pour filling into brownie crust and bake at 350 degrees for 35 minutes or until center is almost set.  Combine 3/4 cup sour cream and 2 teaspoons granulated sugar.  Spread over top of cake, leaving a 2″ border around the edge.  Bake for 1 more minute.  Remove from oven and cool completely on wire rack.  Cover and chill for 8-12 hours.  Remove sides of pan and sprinkle shredded semi-sweet chocolate on top before serving.
Yield:  12 slices
Recipe adapted from Southern Living Magazine.