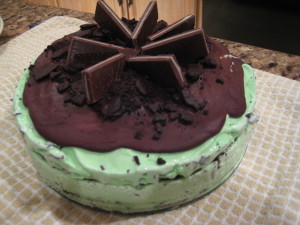 If you remember eating ice cream cakes as a kid, then you will love this recipe.  It is worth the time to make this masterpiece!
Ingredients:
1/2 cup butter, softened
3/4 cup sugar
1 egg
1 teaspoon vanilla extract
1 cup all-pupose flour
1/3 cup unsweetened cocoa
1 teaspoon baking soda
3/4 cup hot, strong, brewed coffee
1 teaspoon white vinegar
1/2 gallon mint chocolate chip ice cream, softened
10 chocolate wafers, coarsely crushed
6 Andes mint candies
1-4oz. semi-sweet chocolate baking bar, chopped
4 Tablespoons whipping cream
Preheat oven to 350 degrees.  Grease and flour three 8″ round cake pans.  Line with parchment paper.  Beat butter and sugar at medium speed with a  heavy duty electric stand mixer until creamy.  Add egg, beating just until blended.  Beat in vanilla.  Combine flour, cocoa, and baking soda.  Add to butter mixture alternately with coffee, beating until blended.  Stir in vinegar.  Add batter to pans and bake 12-14 minutes or until a wooden pick inserted into center comes out clean.  Cool in pans on wire racks for 10 minutes.  Remove cakes from pans onto wire racks and remove parchment paper.   Cool completely (about one hour).
Place ice cream in a large bowl and gently press it with a large spatula to soften it up.  Place one cake layer in a 9″ springform pan and top with one third of ice cream and sprinkle with half of the crushed wafers.  Repeat layers once.  Top with remaining cake layer and ice cream.  Freeze 8 hours or overnight.  Remove from pan.
Place chocolate and whipping cream in a measuring cup and melt at 30 second intervals.  Add up to 4 Tablespoons of whipping cream to get desired consistency.  Pour over top of cake and top with Andes mints.
Yield: 12-16 slices
Recipe from Southern Living Magazine