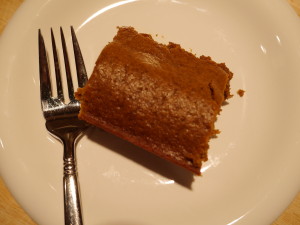 This cake is real quick to make and so moist it doesn't need any icing.  Just sprinkle some powdered sugar on top of the cooled cake.
Ingredients:
1/2 cup granulated sugar
1/4 cup butter, softened
1/2 cup orange juice
1/3 cup molasses
1 egg
1 1/2 cups all purpose flour
2 teaspoons ground ginger
1/2 teaspoon baking powder
1/2 teaspoon baking soda
1/2 teaspoon ground cinnamon
1/4 teaspoon ground nutmeg
Beat sugar and butter at medium speed of an electric mixer for 2 minutes.  Add juice, molasses, and egg and beat for one minute.  In a small bowl, combine flour, ginger, baking powder, baking soda, cinnamon, and nutmeg.  Lightly whisk to combine.  Slowly add flour mixture to butter mixture, beating until well combined.  Pour into a lightly greased 8″ square baking pan.  Bake at 350 degrees for 25-30 minutes or until a wooden pick inserted into the center of the cake comes out clean.
Yield:  9 pieces of cake