My mom would always make this casserole the night before Thanksgiving so that we would have a piping hot breakfast while she was busy preparing the turkey.  If you like your eggs spicy, put a little Tabasco on your serving piece.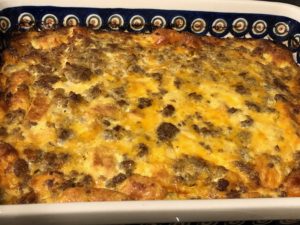 Ingredients:
2 lb. bulk pork sausage
9 eggs beaten
3 cups milk
1 1/2 teaspoons dry mustard
1 teaspoon salt
3 slices bread, cut into 1/4″ cubes
1 1/2 cups shredded cheddar cheese
Cook sausage in a skillet over medium heat until done, stirring to crumble.  Drain on a paper towel.
Combine sausage and remaining ingredients in a large bowl and mix well.
Pour into a well greased 13″ x 9″ baking pan.  Refrigerate covered overnight.
Bake uncovered at 350 degrees for one hour or until bubbly.
Serves:  8-10