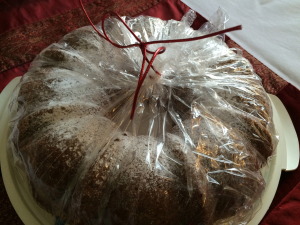 This is the basic coffee cake recipe I turn to when I need something special for guests in the morning.  Not only does it taste great, it is a nice presentation on a cake plate.
Ingredients:
1 cup butter, softened
1 1/4 cups sugar
2 eggs
1 (8 oz.) carton sour cream
2 cups flour
1 teaspoon baking powder
1/2 teaspoon baking soda
1/2 teaspoon salt
1 teaspoon vanilla
2 Tablespoons sugar
1 teaspoon ground cinnamon
Powdered sugar
Beat butter in mixer until creamy. Gradually add sugar, beating for 6 minutes. Add eggs one at a time, beating well. Add sour cream, mixing until blended.
Combine flour, baking powder and salt and add to creamed mixture. Stir in vanilla.  Spoon half of batter into greased and floured 9″ bundt pan.
Combine 2 tablespoons sugar and cinnamon. Sprinkle half of the mixture over the batter. Add the remaining batter and then top with the cinnamon mixture.
Bake at 350 degrees for 55 minutes.  Cool in pan for 15 minutes.  Remove from pan onto wire rack.  When completely cooled, dust with powdered sugar.