If you have a bunch of ripe bananas sitting on the counter, whip up these muffins.  The spices increase the flavor and with the bananas and sour cream these are super moist.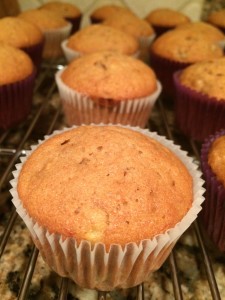 Ingredients:
1 cup butter, softened
2 cups firmly packed light brown sugar
3 eggs
1/4 cup sour cream
1 teaspoon vanilla extract
3 1/4 cups all-purpose flour
1 teaspoon ground cinnamon
3/4 teaspoon baking powder
3/4 teaspoon baking soda
3/4 teaspoon salt
1/4 teaspoon ground nutmeg
2 1/2 cups mashed bananas
Beat butter at medium speed of a heavy duty electric stand mixer until creamy, add brown sugar and beat until light and fluffy.  Add eggs, 1 at a time, beating just until blended after each addition.  Add sour cream and vanilla and beat just until blended.  Stir together flour, cinnamon, baking powder, soda, salt, and nutmeg.  Gradually add flour mixture to butter mixture, beating at low speed just until blended.  Stir in bananas just until blended.  Spoon batter into 12 cup muffin tins lined with paper baking cups.  Fill 3/4 full.  Bake at 350 degrees for 25 minutes or until wooden pick inserted into center comes out clean.  Cool in pans for 10 minutes and remove to wire rack.
Yield:  30 muffins
Adapted from Southern Living Magazine