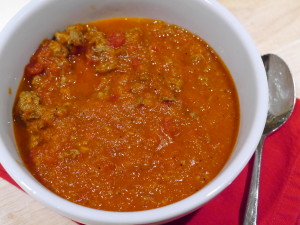 This is a quick recipe and it tastes even better warmed up the second day.
Ingredients:
1 lb. ground venison sausage
1 cup chopped onion
1 cup chopped red bell pepper
2 garlic cloves, minced
1 jalepeno pepper, seeded and chopped
2 Tablespoons chili powder
1/2 teaspoon salt
1/2 teaspoon ground cumin
1/4 teaspoon ground red pepper
1/2 teaspoon black pepper
1-14.5 oz. petite diced tomatoes, undrained
1-14 oz. can chicken broth
1 Tablespoon tomato paste
Heat a large saucepan over medium heat and coat with cooking spray.  Add venison and cook until browned and no longer pink.  Remove from pan and keep warm.  Add onion, peppers, and garlic to pan, cooking 10 minutes or until tender, stirring frequently.  Add chili powered, salt, cumin, red and black pepper.  Add venison back to the pan with tomatoes, chicken broth, and tomato paste, stirring well.  Bring to a boil, cover and reduce heat to low, simmering for 30 minutes.  Remove the lid, and cook an additional 15 minutes.  Serve with shredded cheese and sour cream.
Serves:  4