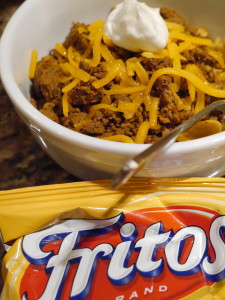 This is a classic American meal that always gets my family excited for dinner time.  It is also a great recipe for busy nights, as it can be made in advance and quickly reheated.  Once you add the chips and some shredded cheese to your bowl and mix with the hot chili, you instantly feel like you are at the ballpark (sans the sticky floors and flies!)
Ingredients:
2 lbs. lean ground beef
1 onion, finely chopped
2 garlic cloves, minced
1 teaspoon ground cumin
1 teaspoon cayenne pepper
1/2 teaspoon salt
2 Tablespoons tomato paste
2 cups beef broth
1/2 cup water
Fritos
Shredded cheddar cheese
Heat a large skillet coated with cooking spray over medium heat.  Brown the onions until translucent and then add the garlic, cooking for 30 seconds.  Add the ground beef and cook until brown and crumbly.  Drain the beef mixture.  Add cumin, pepper, and salt, mixing well.  Add tomato paste and whisk into beef.  Pour broth and water into beef and heat until boiling.  Reduce heat to medium low and cook for 15 minutes.  Serve with Fritos and cheddar cheese.
Serves:  6