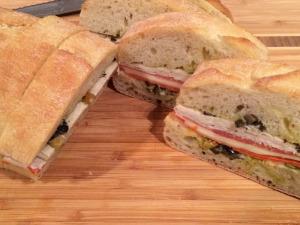 Make this sandwich in the morning for a party or tailgate the same evening.  Giving the marinade some time to soak into the bread, yields a wonderfully moist sandwich!
Ingredients:
2/3 cup olive oil
1/2 cup chopped ripe olives
1/2 cup chopped green olives
1 teaspoon dried oregano
1/2 teaspoon pepper
2 teaspoons lemon juice
1 teaspoon minced garlic
1 loaf Italian Cibatta bread
1/4 lb. sliced salami
1/4 lb. sliced mozzarella cheese
1/4 lb. sliced pepperoni
Combine olive oil through garlic in a small bowl.  Mix well, cover and chill 2 hours.  Cut the length of the bread into two pieces to make the sandwich.  Using a slotted spoon, spread half of the olive mixture onto half of the bread.  Top with salami, cheese, pepperoni, and then repeat another layer of the meat and cheese.  Spread the remaining olive mixture on the top half of the bread and place on top of the sandwich.  Wrap the loaf with plastic wrap and chill for 6-8 hours.  Slice into thin sandwiches.
Yield: 8-10 sandwiches.