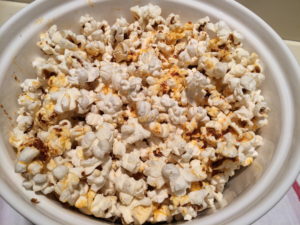 This is super easy to make and the popcorn has such a great kick to it from the chili powder.
Ingredients:
3 Tablespoons butter, melted
1 1/2 teaspoons chili powder
1/2 teaspoon salt
1/2 teaspoon garlic powder
1/2 teaspoon paprika
12 cups fresh popped popcorn
Combine butter, chili powder, salt, garlic powder, and paprika in a small bowl.  Pour over warm popcorn and stir to coat evenly.
Yield: 12 cups