This is a great recipe for a healthier taco that has a lot of flavor.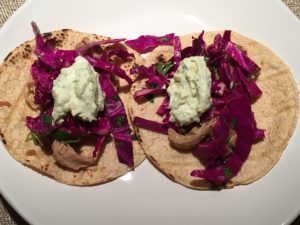 Ingredients:
2/3 cups sliced shallots
1/2 cup chicken stock
1 teaspoon kosher salt, divided
3/4 teaspoon ground cumin, divided
1/2 teaspoon smoked paprika
1 lb. pork tenderloin, trimmed and cut in half crosswise
4 garlic cloves, thinly sliced
1-15 oz. can pinto beans, rinsed and drained
1 1/2 cups thinly sliced red cabbage
1/4 cup coarsely chopped fresh cilantro leaves
2 Tablespoons fresh lime juice, divided
1 teaspoon canola oil
1/3 cup plain, fat-free Greek yogurt
1 ripe avocado, peeled
8 corn tortillas
Combine shallots, stock, 1/2 teaspoon salt, 1/2 teaspoon cumin, paprika, pork, and garlic in a small saucepan; bring to a simmer.  Reduce heat to low; cover and simmer 25 minutes.  Remove pork from pan; set aside.  Increase heat to medium, cook 8 minutes until liquid reduces.  Shred pork with 2 forks.  Add beans to liquid and mash with a fork.  Add pork and stir to combine.  Turn heat down to low.  Combine cabbage, cilantro, 1 1/2 Tablespoons lime juice, oil and 1/4 teaspoon salt.  Toss well to combine.  Combine yogurt, avocado, remaining 1 1/2 teaspoons lime juice, 1/4 teaspoon cumin, and 1/4 teaspoon salt in a small bowl.  Mash to desired consistency.  Heat tortillas directly over a gas flame.  Divide pork mixture, slaw, and avocado evenly among the tortillas.
Serves:  4
Recipe from Cooking Light Magazine