This recipe works great if you use the thin pork chop cutlets available at your butcher counter.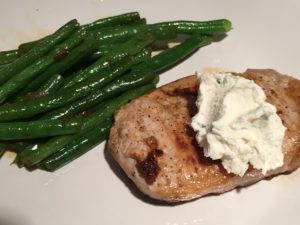 Ingredients:
1 1/2 Tablespoons unsalted butter, softened
1 teaspoon chopped fresh thyme
1 teaspoon grated lemon rind, divided
1 teaspoon kosher salt, divided
3/4 teaspoon black pepper divided
1 oz. goat cheese, softened
2 teaspoons olive oil
4-4oz. boneless pork chops
10 oz. green beans, trimmed
1 medium shallot, thinly sliced
1/4 cup chicken stock
1 teaspoon fresh lemon juice.
Combine butter, thyme, 1/2 teaspoon lemon rind, 1/4 teaspoon salt, 1/8 teaspoon pepper, and goat cheese in a small bowl; set aside.  Heat oil in a large nonstick skillet over medium heat.  Sprinkle pork chops evenly with 1/4 teaspoon salt and 1/4 teaspoon pepper.  Add pork to pan, cook 3 minutes.  Turn pork over, and cook until done, about 4 minutes.  Place pork chops on a plate and cover with foil to keep warm.  Add green beans and shallot to the pan pork was in and cook 1 minute.  Add stock, cover and cook 3 minutes.  Uncover and cook until liquid evaporates, about 1 minute.  Stir in remaining 1/2 teaspoon rind, reminding salt, pepper, and lemon juice.  Top each pork chop with 2 teaspoons of the goat cheese mixture.
Serves: 4
Recipe from Cooking Light Magazine