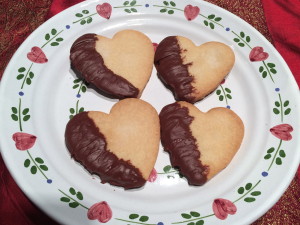 These shortbread cookies are super simple to make and it may be the best shortbread I have ever made!
Ingredients:
3/4 lb. (3 sticks) unsalted butter, softened
1 cup sugar
3 1/2 cups all-purpose flour
1/4 teaspoon salt
In the bowl of an electric mixer, mix together butter and sugar until they are just combined.  Add the vanilla.  In a medium bowl, sift together flour and salt, then add flour to the butter and sugar mixture.  Mix on low speed until the dough starts to come together.  Dump onto a surface dusted with flour and shape into a flat disk.  Wrap in plastic and chill for 30 minutes.  Roll the dough 1/2″ thick and cut with a heart shaped cutter.  Place the hearts on an ungreased baking sheet and sprinkle with sugar.  Bake for 20 minutes at 350 degrees until the edges begin to brown.  Allow to cool.
Yield: 2 dozen cookies
Recipe from The Barefoot Contessa Cookbook