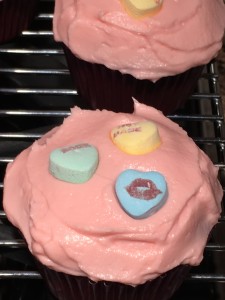 These are super moist cupcakes and the frosting is the right amount of sweet to complement the cake.
Ingredients:
2 1/2 cups all-purpose flour
1 teaspoon baking soda
1/2 teaspoon baking powder
1/4 teaspoon salt
3/4 cup sugar
3/4 cup packed dark brown sugar
1 teaspoon vanilla extract
2 eggs
4 large bananas, mashed
1/2 cup sour cream
1/4 cup buttermilk
8 ounces imported milk chocolate, chopped
1 cup unsalted butter, softened to room temperature
8 ounces cream cheese, softened to room temperature
1 cup powdered sugar, sifted
1 teaspoon vanilla extract
3-4 drop red food coloring
Candy hearts
Line muffin tin with paper liners.  In a medium bowl, mix together flour, baking soda, baking powder, and salt.  In the bowl of an electric mixer, beat butter, sugars, and vanilla in a large bowl until light and fluffy.  Add eggs 1 at a time, beating just until blended.  Add bananas and beat just until blended.  Add in sour cream.  Add half of the dry ingredients, then the buttermilk, then the remaining dry ingredients.  Stir in chocolate.  Spoon into muffin tin and bake at 350 degrees for 30 minutes or until a wooden pick inserted into the center comes out clean.  Remove cupcakes to a wire rack and let cool completely.  For the frosting, using an electric mixer, beat the butter and cream cheese until fluffy.   Add the powered sugar and vanilla, beating until smooth and then add the food coloring, mixing well.  Decorate with candy hearts.
Yield:  24 cupcakes