While this may not be the best picture of my handsome husband, you do have to admire that bird! I have been roasting turkeys for 20 years. I learned from watching my parents get up early to prepare the great feast. It never occurred to me to order a pre-made meal or go out for the event.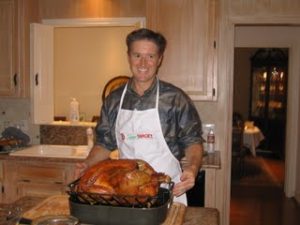 It just seemed natural to exercise a little more the week leading up to Thanksgiving so I could hoist the big bird into the grocery cart! When I talk with my friends about preparing a Thanksgiving turkey, many are apprehensive. Trust me, it can be daunting the first time. Here is what I have learned over the years:
Fresh vs. Frozen
I choose fresh every time. For years I bought a frozen bird. I would have to make sure I shopped early enough to let it thaw in the fridge (not on the counter or in the microwave!) and even then, it was still a little icy. I also think the frozen birds tend not to be as moist and the skin a little more tough.
To Stuff or Not to Stuff
My family stuffed, so I stuff. The recipe below is pretty basic. My mom made it year after year. I made it for my husband on our first Thanksgiving, and he says there is no alternative! Make a double batch! I use the stuffing in the bird as flavoring not for serving, as it can be a food-safety risk. A separate dish in the oven, baked until it has a crispy top, is much tastier.
How Big to Buy
I usually have 12 mouths to feed on Thanksgiving, and we LOVE leftovers. Bigger is better in my opinion.
How to Cook
It's easy. I promise.
1. In a clean, deep sink, rinse the bird and pull the giblets and neck out of both cavities. (Save for the gravy recipe, below.)
2. Fill both ends of the bird with stuffing. Use turkey pins (found at the grocery) to close the neck, and tie the legs together with kitchen twine.
3. Place the bird on a rack in a roasting pan.
4. Slide the pan onto your lowest shelf in a preheated, 325-degree oven.
5. A 25lb. bird should be ready in 5 1/2 hours. For extra reassurance, use an oven thermometer.
6. Let the bird rest for 30 minutes before carving.