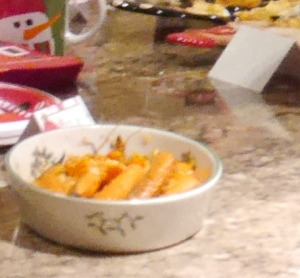 These carrots will convince even kids that they like vegetables.  This is a perfect side dish for the Thanksgiving table.
Ingredients:
26 small/medium carrots with tops
2 Tablespoons olive oil
1 teaspoon kosher salt
1 teaspoon ground cumin
1/2 cup orange marmalade
1/2 cup fresh orange juice
1 teaspoon ground ginger
1/4 teaspoon dried crushed red pepper
1 teaspoon fresh minced rosemary
Freshly ground black pepper
Cut the tops from the carrots, leaving 1″ greenery on each.  Peel the outer layer of the tops and the carrots.  Toss together the carrots and oil in a large bowl.  Sprinkle with salt and cumin.  Spread carrots in a single layer in an aluminum foil lined jelly roll pan and bake 475 degrees for 25 minutes or just until carrots are tender and browned.  Meanwhile, bring marmalade and next 3 ingredients to a boil in a small saucepan over medium heat.  Boil, stirring often 4-6 minutes or until thickened.  Stir in rosemary.  Transfer carrots to a large serving bowl, add marmalade mixture and toss to coat.  Season to taste with pepper.  Serve hot or at room temperature.
Recipe from Southern Living Magazine and prepared by my friend Sarah