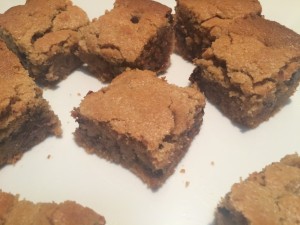 This is peanut butter meets chocolate chip cookie bars.  Perfect treat for taking over to grandma's house for Thanksgiving.
Ingredients:
6 Tablespoons unsalted butter, softened
1/2 cup smooth peanut butter
1 cup granulated sugar
1/4 cup packed light brown sugar
2 eggs
1 cup all-purpose flour
1 teaspoon baking powder
1 cup semi-sweet chocolate chips
In a mixing bowl, combine butter and peanut butter until smooth.  Add the granulated and brown sugars, mixing well.  Beat in the eggs, one at a time, until well blended.  Add vanilla.  Slowly incorporate the flour, and baking powder.  Stir in chocolate chips.  Pour into a greased 8″ square pan and bake at 350 degrees for 30-40 minutes or until the top is golden brown and a wooden pick inserted in to the center comes out clean.  Let cook completely and cut into bars.
Yield:  16 bars.