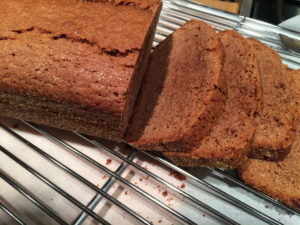 This cake fills the kitchen with the spices of fall and on a crisp day there is nothing better than a slice of this cake with a cup of warm tea.
Ingredients:
1 1/2 cups all-purpose flour
1 teaspoon baking powder
1/2 teaspoon fine sea salt
1 Tablespoon unsweetened cocoa powder
1 Tablespoon ground cinnamon
2 teaspoons ground ginger
1/2 teaspoon ground nutmeg
1/4 teaspoon ground allspice
1 cup sugar
1/4 cup packed light brown sugar
2/3 cup vegetable oil
1/3 cup unsweetened applesauce
2 eggs
1 teaspoon vanilla extract
Butter and flour a 9″ x 5″ loaf pan.
In a medium bowl, combine the flour, baking powder, salt, cocoa powder, cinnamon, ginger, nutmeg, and allspice.
In a large bowl, beat the sugars, oil, applesauce, eggs, and vanilla extract to blend. Add the dry ingredients and stir until just blended. Pour the batter into the prepared pan and smooth the top with a spatula. Bake 350 degrees for 45 minutes or until wooden pick inserted into the center comes out clean. Cool the cake for 10 minutes. Turn onto wire rack and cool completely. Sprinkle with powdered sugar.
Yield: 8 slices
This recipe is from one of my favorite cookbook authors, Giada De Laurentis.