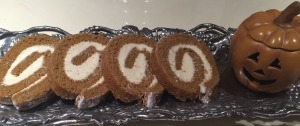 The. Best. Pumpkin. Roll. Ever.
Ingredients:
3 eggs
1 cup sugar
2/3 cup canned pumpkin
3/4 cup all-purpose flour
1 teaspoon baking powder
2 teaspoons cinnamon
1 teaspoon ginger
1/2 teaspoon nutmeg
1/2 teaspoon salt
1-8 oz. package cream cheese, softened
4 Tablespoons butter, softened
1 cup powdered sugar, plus extra for the towel
1 teaspoon vanilla extract
In a large mixing bowl combine eggs and sugar, beating well.  Add pumpkin and mix.  In a small bowl combine flour, baking powder, cinnamon, ginger, nutmeg, and salt.  Slow add to pumpkin mixture and beat well.  Grease a 15″ x 10″ jelly roll pan and lay a sheet of wax paper over the bottom.  Spread the pumpkin batter in the pan and bake at 375 degrees for 15 minutes.  Let cool on a wire rack for 15 minutes.  Take a clean kitchen towel over a cutting board and sprinkle it with sifted powdered sugar.  Invert the cake onto the powdered sugar and gently remove the wax paper.  From the 10″ side of the cake, gently roll into a log shape and let set.  Make the frosting by beating the cream cheese and butter.  Slowly add the powdered sugar and vanilla.  Gently unroll the cake onto a cutting board and spread the frosting, over the top, leaving a 1/4″ on each side.  Roll the cake back up, wrap tightly in plastic wrap and refrigerate for 3 hours.  Unwrap and slice with a serrated knife.
Yield: 10 slices