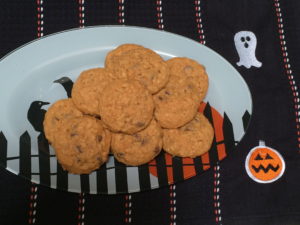 I always make these Pumpkin Cookies to kick off the holiday season in October!  I have been baking these cookies since high school with a girlfriend of mine and each October we check in with one another to make sure the oven has been baking these gems.
Ingredients:
4 cups all-purpose flour
2 cups regular oats
2 teaspoons baking soda
2 teaspoons cinnamon
1 teaspoon salt
1 1/2 cups butter, softened
2 cups light brown sugar, packed
1 cup granulated sugar
1 egg
1 teaspoon vanilla extract
1 can-16oz. pumpkin
1 cup chocolate chips
Combine flour, oats, baking soda, cinnamon, and salt.  Cream butter and gradually add the sugars, beating until light and fluffy.  Add egg and vanilla, mixing well.  Alternate additions of the dry ingredients and the pumpkin, mixing well after each addition.  Stir in chocolate chips.  Drop by teaspoonfuls onto a silicone mat on a cookie sheet.  Bake at 350 degrees for 10-15 minutes or until firm and lightly browned.  Remove from cookie sheet and cool on a wire rack.
Yield: 5 dozen cookies