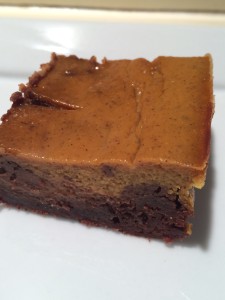 This is a cross between pumpkin pie and brownies!  You can hold out some of the brownie batter to put on top and then swirl or just swirl the brownie and pumpkin batter once you pour it all in the pan.
Ingredients:
1 1/4 cups semisweet chocolate morsels
1 cup unsalted butter, cut into pieces
3-1 oz. unsweetened chocolate baking squares, chopped
3 eggs
1 cup plus 2 Tablespoons granulated sugar
2 Tablespoons brewed coffee
1 Tablespoon vanilla extract
2/3 cup all-purpose flour
1 1/2 teaspoons baking powder
1 teaspoon kosher salt
1-15 oz. can pumpkin
3 eggs
1/2 cup heavy cream
1/3 cup firmly packed light brown sugar
1 1/2 teaspoons pumpkin pie spice
In a double boiler, add semisweet chocolate morsels, butter, and baking chocolate.  Over a low simmer, stir the chocolate mixture until melted and remove from heat.  Cool for 10 minutes.  Whisk together 3 eggs, granulated sugar, coffee, and vanilla in a large bowl.  Gradually whisk warm chocolate mixture into egg mixture, cool 10 minutes.  Grease a 13″ x 9″ baking pan with butter.  Line bottom and sides of pan with parchment paper, allowing 2-3 inches to extend over sides.  Grease with butter, and flour the parchment paper.  Sift flour, baking powder, and 1/2 teaspoon salt.  Whisk into chocolate mixture.  Pour batter into prepared pan, reserving 2/3 cup. Whisk together pumpkin, eggs, heavy cream, brown sugar, pumpkin pie spice, and remaining 1/2 teaspoon salt, pour over brownie batter in pan.  Top with reserved brownie batter and swirl batter gently with a knife or wooden pick.  Bake at 350 degrees for 45-50 minutes or until a wooden pick inserted into center comes out with a few moist crumbs.  Cool completely on a wire rack.  Gently remove brownies from pan with parchment paper and cut into squares.  These brownies can be refrigerated.
Yield:  24 brownies
Recipe from Southern Living Magazine