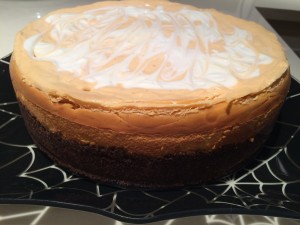 No need to wait until Thanksgiving to make this wonderful cheesecake, whip it up as soon as the calendar turns over to October!
Ingredients:
3/4 cup cinnamon-flavored graham cracker crumbs
3/4 cup chocolate graham cracker crumbs
5 Tablespoons butter, melted
3 Tablespoons granulated sugar
4-8oz. packages cream cheese, softened to room temperature
1 cup firmly packed light brown sugar
1 teaspoon pumpkin pie spice
1 teaspoon vanilla extract
4 eggs
1-15oz. can pumpkin
1 Tablespoon fresh lemon juice
1-16oz. container sour cream
3 Tablespoons granulated sugar
Pinch of pumpkin pie spice
Prepare crust by stirring together the graham cracker crumbs, butter, and sugar until well blended.  Press mixture into a lightly greased 9″ springform pan, pressing the crumbs up the sides about 1″.  Bake at 325 degrees for 10 minutes.  Let stand at room temperature.  Prepare the filling by beating the cream cheese, brown sugar, pumpkin pie spice, and vanilla at medium-low speed with an electric mixer in a large bowl just until smooth.  Add eggs, 1 at a time, beating at low speed just until yellow disappears after each addition.  Process the pumpkin in a food processor for 1 to 2 minutes or until very smooth.  Stir together lemon juice and 1 1/2 cups pumpkin puree, reserving the remaining puree.  Add pumpkin-lemon juice mixture to cream cheese mixture, and beat at low speed just until blended.  Pour into prepared crust.  Bake at 325 degrees for one hour or until center of cheesecake jiggles.  Prepare the topping by stirring together the sour cream and 3 Tablespoons granulated sugar, reserve 1/3 cup sour-cream-sugar mixture.  Stir together remaining sour cream mixture, a pinch of pumpkin pie spice, and reserved pumpkin puree.  Remove cheesecake from oven and gently spread the sour cream-pumpkin mixture over cheesecake.  Dollop with reserved 1/3 cup sour cream-sugar mixture; gently swirl with knife.  Return cheesecake to oven and bake at 325 degrees for 5 more minutes.  Turn oven off.  Let cheesecake stand in oven with door closed, 15 minutes.  Remove cheesecake and let cool completely on wire rack, about 2 hours.  Refrigerate 8 to 12 hours.
Recipe from Southern Living Magazine