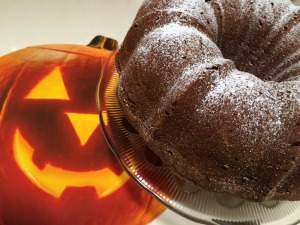 Ingredients:
3 cups sugar
1 cup unsalted butter, softened
3 eggs
2 cups canned pumpkin
1 teaspoon vanilla extract
3 cups all-pupose flour
1 teaspoon baking powder
1/2 teaspoon baking soda
1/4 teaspoon salt
1/4 teaspoon ground cinnamon
1/4 teaspoon ground cloves
1/4 teaspoon ground allspice
1/4 teaspoon ground nutmeg
Beat sugar and butter at medium speed with an electric mixer until creamy.  Add eggs,  pumpkin, and vanilla beating until blended.  Combine flour through nutmeg and gradually add to pumpkin mixture, beating until well blended.  Pour into a greased and floured 10″ bunt pan.  Bake at 350 degrees for 1 hour and 15 minutes or until wooden pick inserted into center comes out clean.
Yield: 20-24 slices