This is a really moist bread that includes all the wonderful, autumnal spices. Speaking of spices, it might be time to clean out your cabinet and get new spices for the baking season. Check your expiration dates. When in doubt, toss it out!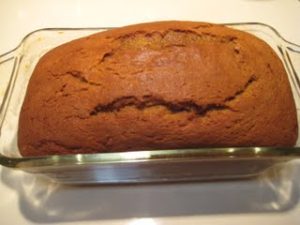 Ingredients:
1/3 cup shortening
2 2/3 cups sugar
4 eggs
2 cups canned pumpkin
2/3 cup water
3 1/3 cup flour
1/2 teaspoon baking powder
2 teaspoons baking soda
1 1/2 teaspoon salt
1 teaspoon ground cinnamon
1 teaspoon ground cloves
Mix shortening in electric mixer and then add sugar, beating well. Add eggs, then pumpkin and water, mixing well.  Combine flour, baking powder, baking soda, salt, cinnamon, and cloves. Add to creamed mixture, beating well.   Spoon into 2 greased and floured 9x5x3 inch loaf pans. Bake at 350 degrees for 1 hour and 10 minutes or until knife inserted in center of bread comes out clean.
Yield: 2 loaves of bread