This stuff is addictive, you will not be able to stop eating it!  It makes a large batch so it is perfect for a party or gift giving.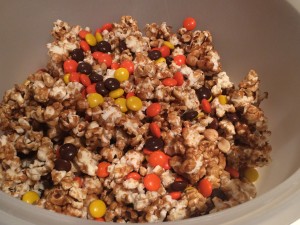 Ingredients:
15 cups popped popcorn (3/4 cup of kernels)
1 cup plus 2 Tablespoons dark brown sugar
1/2 cup butter
1/2 cup dark corn syrup
1/4 teaspoon kosher salt
1 cup lightly salted dry roasted peanuts
1-10oz. package Reese's Pieces
Spread popcorn in an even layer on a lightly greased (with cooking spray) sheet of heavy-duty aluminum foil lined 13″ x 18″ pan (a roasting pan works great).  Stir together brown sugar, butter, corn syrup, and salt in a small saucepan over medium-low heat, bring to a simmer, stirring constantly, for 1 minute.  Pour over popcorn and gently stir with a rubber spatula to coat.  Bake at 325 degrees for 25 minutes, stirring every 5 minutes.  Add peanuts during the last 5 minutes.  Remove from oven and spread on a lightly greased (with cooking spray) sheet of wax paper.  Cool completely for 20 minutes.  Break apart into large pieces, and stir in Reese's.  Store in an airtight container for up to 1 week.
Recipe from Southern Living Magazine