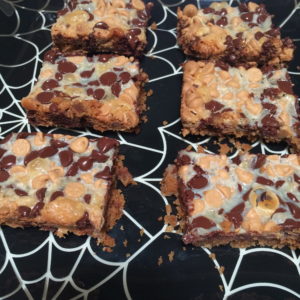 Graham crackers, chocolate chips, and peanut butter chips…tricks AND treats!
Ingredients:
1/2 cup butter
1 1/2 cup graham cracker crumbs (13 whole graham crackers, crushed)
1-14 oz. can sweetened condensed milk
1-12 oz. package semi-sweet chocolate chips
1 cup peanut butter chips
In a 13×9 pan, melt butter in oven at 325 degrees. Sprinkle crumbs evenly over melted butter. Pour sweetened condensed milk over crumbs. Alternate topping with chocolate chips and peanut butter chips.  Press down with your hand to get the chips to stick into the condensed milk. Bake 25-30 minutes or until light brown.  Let cool completely before cutting into squares.
Yield: 24 bars