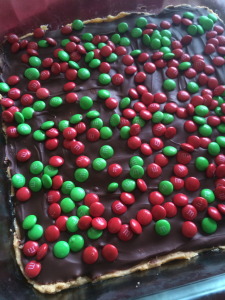 I make these every year for gifts and treats for friends.  You can make these in an hour and decorate the top with festive Christmas candies.
Ingredients:
1 1/2 cups confectioners sugar
12 graham cracker squares
1/2 cup unsalted butter
1/2 cup creamy peanut butter
1 cup semi-sweet chocolate chips
Red and Green Christmas candies
Process confectioners sugar and graham cracker squares in a food processor until fine crumbs form.  Heat butter and peanut butter over low heat on the stove just until melted.  Combine crumbs and butters in a medium sized bowl until a soft dough forms.  Spread into an ungreased 8″ baking dish.  Melt the chocolate chips over low heat and spread over the dough.  Sprinkle with candies and place in the refrigerator for 1 hour.  Cut into squares.
Yield:  36 squares