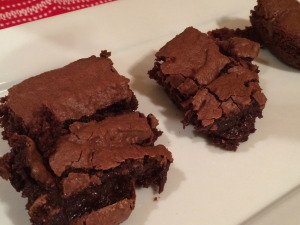 Ingredients:
1 cup all-purpose flour
1/3 cup unsweetened cocoa
1/4 teaspoon baking soda
1/4 teaspoon salt
1/3 cup semisweet chocolate chips
1/4 cup butter
1 cup sugar
2 eggs
1/4 cup Baileys Irish Cream
1 teaspoon vanilla extract
Combine flour through salt in a small bowl, stirring with a whisk.  Place the chocolate chips and butter in a saucepan over low heat, stirring just until melted, then add sugar, eggs, and Irish Cream.  Remove from heat and add the flour mixture, stirring just until combined.  Pour into an 8″ square baking dish and bake at 350 degrees for 20 minutes or until wooden pick inserted into center comes out clean.  Let cool completely and cut into squares.
Yield:  16 brownies